India Post Payments Bank (IPPB) is a payment bank from the India post. The aim of launching IPPB is to increase the reach of a banking system in the rural areas of the country. It is a digital bank that provides services like ATM Card, online banking, mobile banking, etc. It will also provide payment remittance services. IPPB is India's largest payments bank. because its mother company in India post, its services are available all over India. so it is easy for the management to spread the IPPB all over India through the India post. All post offices in India will act as the access point for the IPPB. moreover, there nearly 10,000 doorstep service providers are there to make banking easy for the IPPB account holders. In this post, we will discuss the services offered by the Indian Post Payment Bank and the types of accounts available on IPPB.
Also read: India Post Payments Bank-Steps to open Online Account
Types of India Post Payments Bank Accounts
IPPB offers four types of payment bank accounts. following are the details
Regular Saving Account
A regular saving account is an account that can be open at a post office or by a doorstep banking service. This account can be open with zero balance and No monthly average balance is require for this account. Day end balance above 1 Lakh in this account can be swept/transferred into a post office account.
Basic Saving Account
A basic savings account has all the features and benefits of a regular saving account, the change of four cash withdrawals are allowed per month.
Digital Saving Account
Digital saving account is for online users. This account can be easily opened through mobile banking. a maximum yearly cumulative deposit of ₹.2 Lakh is allowed in this account. you have to verify the KYC within 12 months of opening the account. otherwise account will be under closure procedure.
Current Account
IPPB also offers current accounts services to small merchants and individual businessmen. cash deposits and withdrawals are Unlimited in this account. for meeting business requirements, a merchant app is also available.
Also read: DAKPAY- All you need to know about DakPay
Services offered by India Post Payments Bank
Doorstep Banking
IPPB offers the unique service of doorstep banking. It is a revolution in the banking service, as it brings the various services of the bank to a customer's doorstep. You can easily avail of account opening, cash withdrawal, cash deposit, balance inquiry, and Aadhaar to Aadhaar fund transfer using doorstep banking. To avail of doorstep banking, you need to call or contact the nearest IPPB point, or you can contact your postman directly. he will be assisting you with the banking services.
Mobile Banking
Indian Post Payment Bank is having a good quality Mobile application. it can be easily downloaded from your app stores. follow the instructions and complete the installation. this mobile banking app makes your banking very easy. you can sweep money from and to your post office savings banks. and other services like UPI, bill payments, etc are available in IPPB mobile banking application.
QR Code Banking
Banking through QR code is a new technology in India. The IPPB offers a QR card to its account holders when the account gets open. This QR card will make the payment very easy by scanning. no need to carrying money in your purse. The QR code is used to get customer details. for completing any transaction, biometric authentication is mandatory.
Bill and Utility Payments
Mobile and DTH recharge, Electricity, water, broadband and gas bills, donation and insurance payments, etc, can be done through the IPPB mobile banking app. it is very easy and simple to make the bills payment.
Direct Benefit Transfer
The IPPB account can be used for direct benefit transfer. MGNREGA, Scholarships and social welfare benefits, and other government subsidies get directly deposited in this account. Aadhaar card linking is mandatory to avail of DBT benefits.
Third-Party Products
IPPB also offers third-party products. You can avail of loans, insurance, investments, and a post office saving scheme via IPPB.
Also read: Top 5 Payments Banks in India
Post office account Vs India Post Payments Bank account
The basic difference between the India Post office savings bank account and India post payments bank Account are as follows.
| | |
| --- | --- |
| Post Office Account | Indian Post Payments Bank Account |
| A minimum balance requirement is there to open an account. | IPPB account is a zero balance account. |
| The monthly average balance requirement is ₹50 or ₹500 for an account with a checkbook facility | The monthly average balance requirement is zero. |
| No Maximum Balance limit for the account holder | 1 Lakh is the maximum balance limit for a basic saving account. |
| Only single uniform account. | Three different accounts are regular, basic, and digital. |
| Only basic services are available | new services like Doorstep Banking, QR code banking, mobile banking, etc are available |
How to open an IPPB account through Mobile App?
The first step towards opening an IPPB account is downloading IPPB Mobile App. the application is available on the google play store. when the application is installed and ready on your mobile, open the application. On the front page, click language selection and select the language you prefer. English is the selected default language.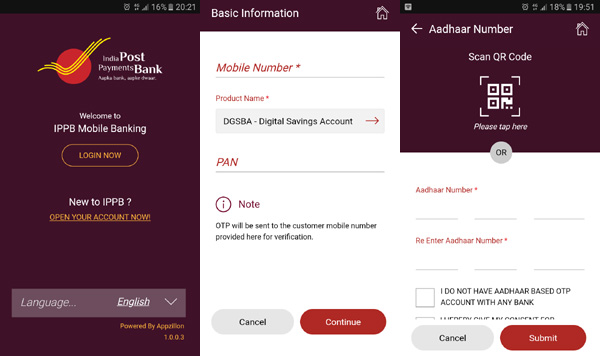 Click on the Open Your Account Now link. now you will reach a page where basic information like mobile number and PAN card. After providing details click on the continue button. On the next page, it will offer two options, you can either scan the QR code given on your Aadhaar or you can provide Aadhaar Number. It will also display a checkbox asking about Aadhaar based OTP linkage with another bank account.
IPPB QR Code Banking
You will get a QR card after opening an account with the IPPB. This QR card can be used for any QR code-based payments system. The best thing about this card is you don't have to remember your bank account number or PIN for doing any transactions. instead, biometric authentication is used for completing the transaction. this QR code-based card can be used for transactions, money transfers, bill payments, cashless shopping, etc. The steps for using this card are given below.
Scan the code
Authenticate through biometric verification
Complete the transaction
Benefits of India Post Payments Bank
Opening an account and doing transactions via IPPB is simple, affordable, efficient, and convenient.
Doorstep banking increases the ease of banking for the customers.
No minimum average balance requirement.
NEFT, IMPS, AEPS and UPI transaction methods are available.
Mobile banking for anywhere transaction.
QR code banking for making transactions more secure and robust.
Final Thoughts
India post payments bank is Indias largest payments bank. it offeres variety of services and it provides good quality banking products. the IPPB mobile application makes the transaction very easy. the launch of the IPPB made banking very easy in the rural area if the country. and it helps to increase the quality of banking in rural. in this post we discussed India post payments bank and its features. i hope this post will give u a good idea about the IPPB.
Happy Banking