CRED is a mobile platform that helps you to make credit card bill payments easier. Credit card users in our country are increasing day by day. people are choosing credit card payments due to many reasons. CRED is an intermediate mobile application. If you are paying credit card bills through the app, you will get an equal amount of Cred coins. These cred coins can be used for product purchasing and discount coupons. CRED by Kunal Shah, founder of Freecharge.
CRED
People are using credit cards for their shopping and bill payments. If you are using a credit card, then you will have to pay back the credit amount on or before the due date. otherwise, the bank will charge a higher percentage of interest. that's where CRED comes in. CRED app will be a good tool for managing our credit cards efficiently.
CRED is a member-only platform. If your credit score satisfies the required criteria, you can complete the registration on CRED. credit score must be 750 or more to registering. if you are not satisfying these criteria you will be on the waiting list. after registering, the app will request access current credit score and verifies it. if you are eligible, the app will fetch all your credit card details internally. A simple registration guide is explaining below.
How CRED works
Download and Install the app from an Android/iOS mobile phone and sign up with the mobile number and other asked details.
After verifying your mobile number through an OTP, the app will check the credit score and notify you if you are eligible for the service.
On successful verification, the app will add all credit cards linked with the mobile number. one can add up to 10 credit cards at a time,
You will have to verify your card details by adding in the masked numbers.
The app will instantly verify your credit card/cars by transferring ₹1 through IMPS/UPI.
After the successful verification, you can pay credit card bills through the App and earn reward points equal to the bill amount paid.
How to make credit card payments on CRED
Log in to the CRED through the app. Under the 'Cards' tab, choose the card whose bill you want to pay.
The bill amount and minimum due etc. will be displaying on-screen. Click on the tab 'Pay Now and enter the amount you want to pay.
Choose the method of bill payment:

If you are paying through UPI, you have to link and verify your UPI address before making your payment.
If you are paying through a debit card, add the card details. After verifying your card, you can make the payment.
If you are paying through the net banking, select your bank from the list. You will be redirecting to your bank's net banking section to complete the transaction.

After the successful transaction, you will be receiving a transaction ID for reference. and The app will also reflect the amount paid.
It may take up to 2 working days for the payment to be realized by the bank depending on the bank and method of payment,
Advantages of Using CRED
CRED provides reward points for every Rupee you pay towards your bill. The reward points is'CRED coins' and it is redeemable on different offers. Offers will be notified regularly on the app, and you can redeem the CRED coins across categories.
You can track your payment history for all cards added on the platform, and also, can see upcoming bill payments.
Features like 'Kill the bill' will enable you to earn cash back towards the repayment of the bill.
The app will give a reminder each time when your card bill is generating, it ensures that you don't miss a payment.
You can track your expenses by category.
you can track your credit score.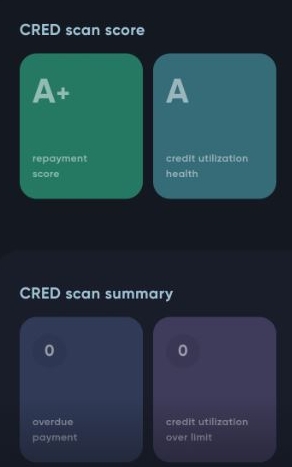 Final Thoughts
CRED app is a good tool for credit card users. especially for the people who uses more than one credit cards. the app simplifies our credit card payments. and it gives good rewards too. also there are many attractive features are there for this app. in this post we discussed about the cred app and its features. i hope this post will give you a good idea about CRED.
Happy Banking